The Real Estate Investing Rule To Follow: Rent Luxury, Buy Utility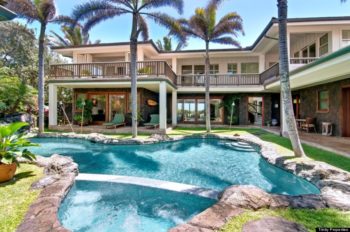 Part of the reason why I bought a smaller house in 2014 was because I wasn't willing to rent my own house for the market price at that time of ~$8,500/month. The price to rent my house had grown from about $5,000/month when I first bought it in 2005. If I had a couple kids and a penchant for throwing tons of money away on rent, then maybe I would have stayed.
To optimize my finances, I figured the best thing to do was to buy a new house more suitable to my house-spending desires (~$5,000/month max) and rent out my old house at market to those willing to pay $8,500/month in rent. This way, economic waste is eliminated, and everybody is happy.
Conduct the same mental exercise with your existing home. If you haven't rented in a while, you may be surprised by how much your primary residence can command for rent in the open market. The cost of living in your home isn't the actual money you are spending to live there. The actual cost is the opportunity cost of not renting it out at market rate.
Let me share with you why it's important to follow the real estate investment rule of Buy Utility, Rent Luxury (BURL) if you want to maximize your lifestyle and your net worth.
Buy Utility, Rent Luxury (BURL)
A common rule a savvy real estate investor follows is to pay no more than 100X the monthly rent as the purchase price. In my example, an investor wouldn't pay more than $900,000 for my now $9,000 a month rental house.
That said, it's IMPOSSIBLE to follow this rule when buying in expensive cities such as New York, San Diego, LA, and San Francisco. Even finding properties priced at 150X monthly rent is extremely difficult to find. Why? Because there is excess demand looking to buy property for lifestyle and capital appreciation. Housing becomes more than just basic living expenses, it becomes a luxury option. A Honda Civic takes you around just fine, but some people like to buy classic Ferraris.
I've chosen to live and remain in San Francisco because I believe it offers a great combination of wealth creation and lifestyle. The average temperature is in the low 60s, six-figure jobs are a dime a dozen, consulting opportunities are endless, it's picturesque, the food is amazing, there's tremendous diversity, and there are plenty of outdoor activities thanks to the topography. San Francisco is amazing, which is why it's so expensive.
I'd love living in Hawaii, but it lacks a robust domestic economy. With tourism as its main industry, the economy is subject to the whims of others. Unless you are a doctor, lawyer, or entrepreneur in Honolulu, there just aren't many six-figure jobs. You need to already be rich or have a location independent business to comfortably afford a sweet home.
Rent Luxury Example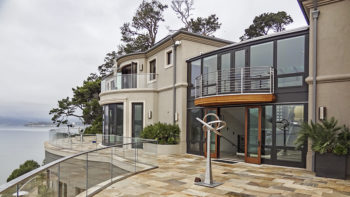 Although spending $9,000/month ($108,000 a year) on rent sounds expensive, it's actually good value since you need to spend roughly 303X the monthly rent (25.25X annual rent) to buy my house at market price ~$2.7M. The 100X – 150X monthly rent rule gets blown out of the water.
Even if you owned the $2.7M home outright, you'd still have to pay $33,000 a year in property taxes ($2.7M X 1.2%), $2,500 a year in insurance, and around $5,000 a year in maintenance costs. Meanwhile, your $2.7M could earn a 2.5% annual rate of return risk-free = $68,500 for a total cost of roughly $109,000 if you had no mortgage. 
But the reality is that most homebuyers only put down 20%. Let's say a buyer put down 27% and got a $2M mortgage at a 3.5% interest rate. His annual mortgage interest cost would be $70,000 on top of $33,000 in property taxes, $2,500 in insurance, $5,000 in maintenance = $110,500. Then you must bake in the opportunity cost of not getting a 2.5% risk-free return on the $700K and you get $17,500. The total gross cost of ownership is therefore $110,500 + $17,500 = $127,500 after putting 20% down. 
Obviously, renting for "only" $108,000 a year versus owning for $127,500 a year is a financially cheaper option if you don't include the tax benefits, not to mention the benefits of less maintenance stress. The only way the owner comes out ahead is through principal appreciation and tax deductions. The problem most people have is coming up with the 20% downpayment. Meanwhile, getting approved for a mortgage is much more difficult post financial crisis.
Buy Utility Example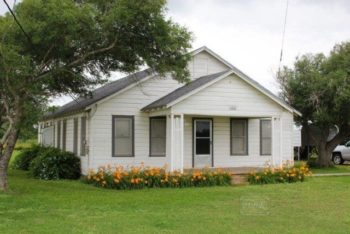 Now let's look at Midwest properties. There are actually $100,000 properties that can earn you $1,000 a month in rent. An $80,000 mortgage at 3.5% after putting down $20,000 only costs the homeowner $359.24/month or $4,310.88 a year. Add on $200 a year in property taxes, $1,000 a year in maintenance, and $500 a year in opportunity cost for not earning a 2.5% risk-free return on the $20,000 downpayment costs only $6,010/year to own compared to $12,000 a year to rent.
If you live in the Midwest, you need to be a buyer of real estate since it's cheaper and you can cash flow immediately. Capital appreciation is slow compared to coastal city property, but that's OK because the income generation is so much higher if you begin to accumulate rentals.
So why doesn't everybody just buy all the Midwest property they can? It's partly because many people in the past believed that in order to buy Midwest property, you had to live in the Midwest. It's natural to want to be able to see and manage the property you want to own. Given half the country lives in the coastal cities, half the country focuses on accumulating coastal city real estate. But now, you can surgically buy specific Midwest property through real estate crowdfunding, which is why I'm so bullish on the space. This is financial arbitrage at its finest.
The solution for half the population living in expensive coastal cities such as SF, NYC, LA, San Diego, Boston, Washington D.C. and Honolulu is to therefore rent where you are and buy in the Midwest and South to maximize income and net worth.
What Determines Luxury And Utility?
We can qualitatively say without prejudice that coastal city living can be considered Luxury living while non-coastal city living can be considered Utility living. Who doesn't want to be near the ocean, see the ocean, fly direct to other countries, eat a wide assortment of food, be constantly entertained, and take advantage of the highest concentration of job opportunities? There's a reason why expensive cities are expensive.
But of course, non-coastal city people will balk at this classification given there's so much non-coastal city living has to offer too. There's something great to be said about a slower pace of living, much lower costs, and lots of space. We're all biased for where we currently live or where we come from. Therefore, the easiest solution to determining what defines Luxury and Utility is to utilize objective math.
According to data compiled by Zillow, the national Median Price to Rent Ratio is around 11.44 (see dotted horizontal line below). Therefore, we can say the higher a property is valued above 11.44X annual gross rent, the more it is considered Luxury and vice versa.
If we use one standard deviation to determine the Luxury and Utility Median Price to Rent Ratio, the breakpoints are roughly 13.3X and above for Luxury and 9.6X and lower for Utility. In other words, roughly 68% of homes in America trade within 9.6X – 13.3X annual gross rent, which makes renting or owning a wash.
As you can see from the chart, San Francisco (Zillow includes Contra Costa and Alameda counties) trades at a Median Price To Rent Ratio of 20.51X, way above the 13.3X ratio I've determined to equal Luxury. However, my rental home trades at 26X annual gross rent, therefore, I should consider selling the property.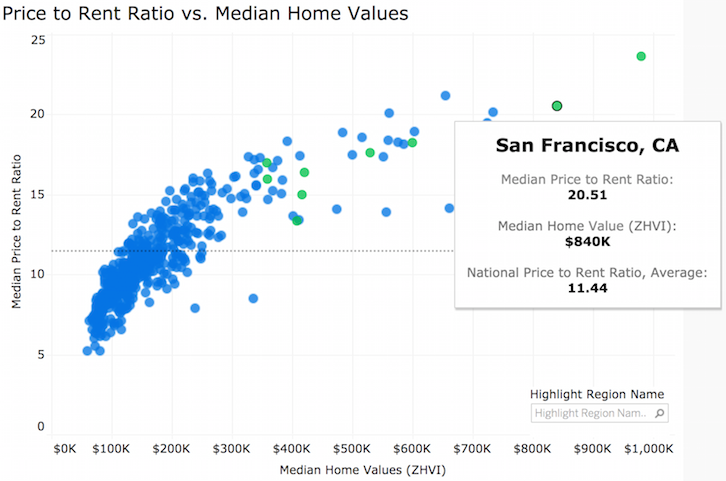 Luxury = 13.3X Median Price To Rent Ratio Or Higher
On the flip side, check out properties in Raymondville, Texas with a Median Price to Rent Ratio of only 5.2X. In other words, the median $60,000 house commands almost $1,000/month in rent ($60K / 5.2 = $11,538/year) . In other words, in just 5.2 years, you can have your renter pay back your entire property assuming you took out a 100% mortgage!
Raymondville, Texas clearly is considered Utility, and a savvy real estate investor should be buying Raymondville property all day long if their job market remains stable. The problem is that access to the market hasn't really opened up yet. Not to worry though, since there are literally hundreds of other towns and cities with properties that trade below the 9.6X Utility classification ratio if you look at the Fundrise platform.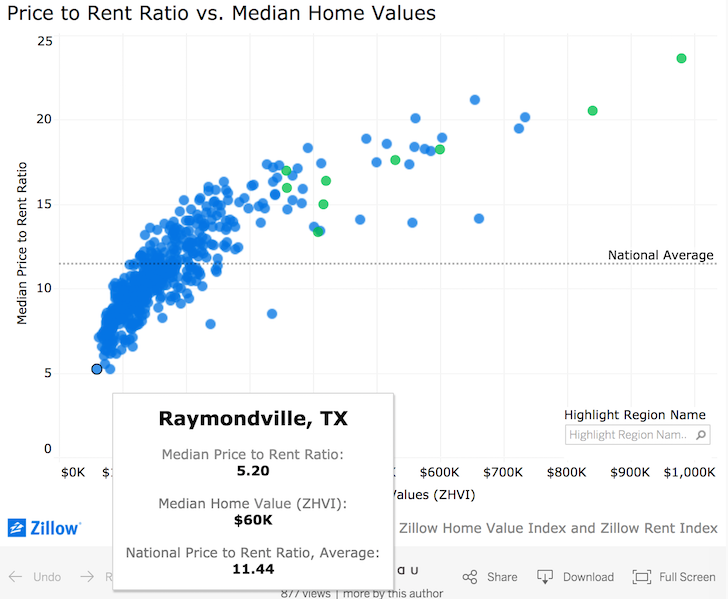 Utility = 9.6 Median Price To Rent Ratio Or Lower
The Optimal Investment Lifestyle Combo
Of course, real estate is a very personal situation for each individual. We live where we want to live mainly due to our families, friends, and jobs. Not everything is about money. But given this is a blog about ways to optimize our finances, a savvy real estate investor should seriously consider my advice of Renting Luxury, Buying Utility.
Here's a scenario I've been pondering now that I'm in the second half of my life. I want to be closer to my parents and live it up like a boss before I die.
For the sake of dreaming big, there's this sweet 5 bedroom, 5 bathroom, 6,400 sqft new construction home in Honolulu with a killer view asking $6.95M. Think how many sweet blog posts I can write from the pool! Let's say the real price is $6.2M since it's been sitting for a while. Based on a 25X Median Price to Income Ratio, this means I can rent the house for approximately $248,000 a year or $20,500 a month. $20,500 is a lot of money, but think about how much rental income $6.2M can earn in Raymondville, Texas.
First, check out this picture and short video highlighting the $6.2M property. I'm happy to throw a pool party for readers who want to stop by and hang.
Financial Samurai reader pool party anyone?
If the $6.2M was deployed in Raymondville, Texas, I could theoretically earn an insane $1,192,307 a year in gross rental income since the annual gross rent to price ratio is only 5.2X. After spending $248,000 a year living in a sweet home in Hawaii, I'd still have
$944,307 left over in cash flow
if I followed my rule of Renting Luxury, Buying Utility.
Seriously, the last thing I want to do is own a humungous house with tons of ongoing maintenance to deal with. But renting it is a different story. Besides, I don't have $6.2M laying around!
Here's a shortcut to decide whether it's better to rent than to buy. The chart shows the share of homes in each city that can be rented out for more than their monthly expenses according to Zillow's database. Of course, you just can't buy every single property above the rental profitability line. You must still carefully run the numbers and do your due diligence.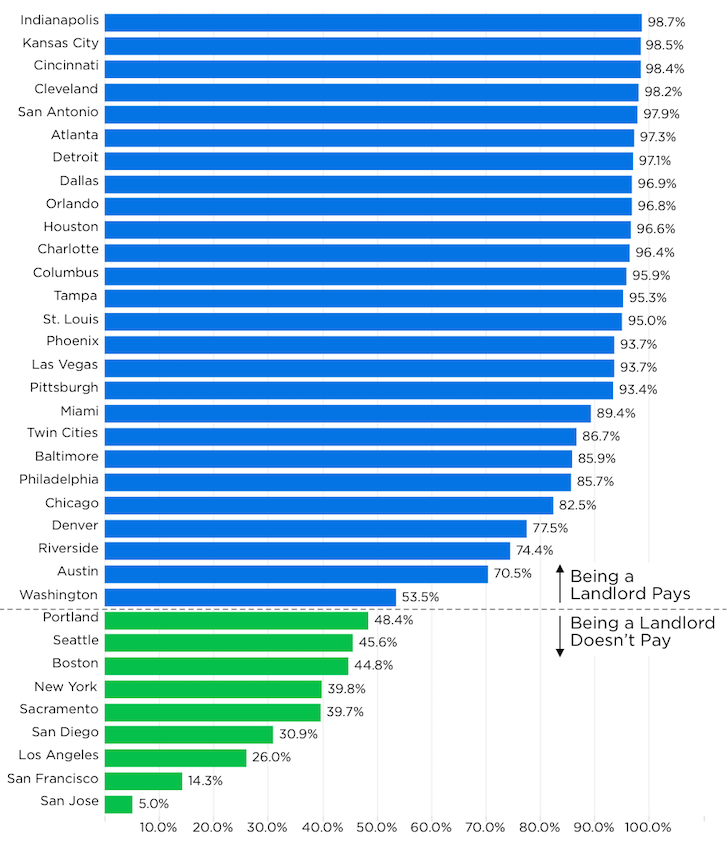 Source: Zillow analysis of Zillow Rent Zestimates and Mortgage Payments, Property Taxes, Insurance and HOA Dues.
Below are the 10 markets where the greatest percentage savings come from buying vs. renting according to Trulia for 2019: 
Detroit: -48.9 percent (it's 48.9 percent cheaper to buy here than to rent)
Baton Rouge, LA: -47.6 percent
Columbia, SC: -45.5 percent
New Orleans: -44.5 percent
West Palm Beach, FL: -43.5 percent
Greenville, SC: -43.4 percent
Charleston, SC: -42.8 percent
Philadelphia, PA: -42.6 percent
Cape Coral-Fort Myers, FL: -42.4 percent
North Port-Sarasota, FL: -42.1 percent
And below are the 10 markets where the percentage savings from buying vs. renting are the smallest according to Trulia for 2019:
San Jose, California: +12.2 percent (it's 12.2 percent cheaper to rent here than to buy)
San Francisco: +5.8 percent (5.8 percent cheaper to rent)
Honolulu: -2 percent (2 percent cheaper to buy)
Portland, OR: -13.8 percent
Madison, WI: -14.7 percent
Milwaukee, WI: -15.5 percent
Sacramento, CA: -15.8 percent
Oakland, CA: -16.3 percent
Las Vegas, NV: -16.8 percent
The opportunities are plenty to buy cash flow generating properties around the country. Specialized REITs and the rise of real estate crowdfunding companies are making this move easier today. You just need to figure out what type of real estate portfolio mix you want.
For 15 years I've been 100% long luxury growth markets. Now I'm shifting towards a balance of growth and income (utility) because valuations are stretched in expensive coastal cities and I no longer want to spend so much time managing rental properties now that I have a son.
As a result, I sold a San Francisco rental home for $2,742,000, equivalent to 30X annual gross rent in 2017, and reinvested $500,000 of the $1,800,000 in proceeds in heartland real estate crowdfunding. The $500,000 has the ability to generate the same or more amount of passive income as my entire $2,742,000 exposure given net rental yields are so much higher. I re-invested the remaining $1,200,000 in stocks and municipal bonds.
If you can remove emotion, pride, and prejudice from the equation, you should be able to maximize your lifestyle, cash flow, and net worth. Ready to BURL?
Explore real estate crowdsourcing opportunities: If you don't have the downpayment to buy a property, don't want to deal with the hassle of managing real estate, or don't want to tie up your liquidity in physical real estate, take a look at Fundrise, one of the largest real estate crowdsourcing companies today.
Real estate is a key component of a diversified portfolio. Real estate crowdsourcing allows you to be more flexible in your real estate investments by investing beyond just where you live for the best returns possible. For example, cap rates are around 3% in San Francisco and New York City, but over 10% in the Midwest if you're looking for strictly investing income returns.
Sign up and take a look at all the residential and commercial investment opportunities around the country Fundrise has to offer. It's free to look.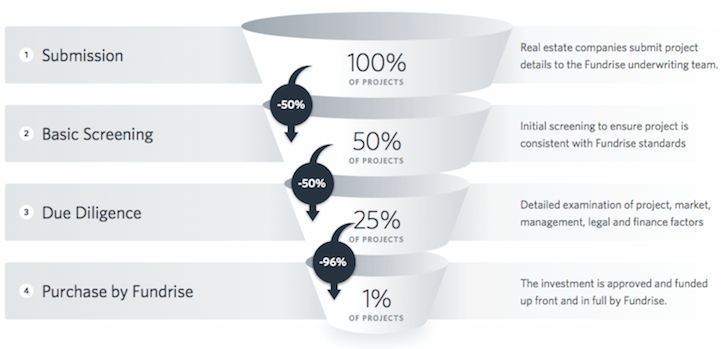 Less than 5% of the real estate deals shown gets through the Fundrise funnel
Brad – MaximizeYourMoney.com says

I feel like real estate prices here in Charleston SC are expensive until I read these posts mentioned west coast rates. It's crazy. Perhaps at some point you should sell everything out west and come east to enjoy a much lower cost of living.

Matt says

The east coast is humid and miserable in summer and cold and miserable in the winter. As a East to West Coast transplant, I'll never go back east.

Brad – MaximizeYourMoney.com says

Here is Charleston it is disgustingly hot June through August for sure. The rest of the year it is very pleasant though. Not unusual for us to have fantastic high-60 or low-70 days in the winter. No snow or ice here. Just wish the summers weren't so humid.

Chris says

Enjoyed the post. A lot of people do not think about opportunity cost in this vein, and to be honest I didn't either. It's hard to shy away from coastal cities for me as I am an ocean guy, but from a strictly financial point of view it makes sense looking into the Heartland. However when you post videos like that, it makes it that much more difficult to not want a mansion overlooking the sea. Please buy that so I can live vicariously.

High Income Parents says

I'm like you in that we value the other aspects of owning luxury beyond financial gain so our primary residence would be better off rented. At least some better than expected capital appreciation is a possibility since the land we bought is in a scarce area with higher demand.
The instability associated with that is something we didn't want to chance raising a family so we bought luxury but we also buy utility with our rental properties.
Down here in San Antonio there are plenty of opportunities to find utility and with the stable military market here, 100x rent or better is available for investors.
Maybe once the kids are gone Mrs. HIP and I will rent in some of the more luxurious places around the world. Have a luxurious and relaxing weekend.

Robert says

Long time reader, first time poster. How easy is it to invest in property in the midwest through realtyshares? How soon do you get some of your investments back? Im afraid my property in the inland empire of southern California will crash along with my stocks. Thank you for all you do Sam!

Abel @ Napalicap.com says

Robert – there are a lot of real estate crowd funding platforms that help facilitate passive investing in RE. However most of them require the investor to be an "accredited investor" which means you either make $200k annually (or $300k as a couple) or have a net worth of over $1M excluding your primary residence.

Sam – I think it would be helpful to discuss with readers what it means to be an accredited investor, the benefits, and private placement memorandums that allow them to generate higher than average returns due to their accreditation status!

JP says

Thanks for the insightful article as always. What does one do if they are currently renting in NYC? I am financially comfortable to pull the trigger, but as you alluded to, it is considerably more expensive on a CF basis to go the purchase route relative to renting….I have no idea what the right play is.

sean says

Sam,
Love your posts, but this time, your midwest numbers are way off. I live in the chicago suburbs and have a 4 unit rental property in an adjacent suburb. Property taxes on my home (purchased in 2011 for 905k and recently re-appraised this year for same price of 905k) have increased from 25k/yr in 2011 to 31k/year in 2016. our 4 unit rental (worth 450k) has hung in at 8k/year property tax rate consistently. Illinois is a disaster, and that is the reason that chicago is the only major city in the US that has had a net effux of residents over the past 4 years. The general assembly yesterday just overrode the governor's veto and instituted a 50% IL state income tax increase which will likely not sway people to turn around and return to illinois. I agree the midwest has reasonable areas for investment, but IL is doing everything it can to bury itself. cheers. keep up the good work.

Charleston.C says

Yes to buying utility, renting luxury. The other benefit in renting luxury, is the short term commitment to the luxury itself. If someone's financial standing changes, they can adjust the level of luxuriousness based on affordability and need, something you can't easily do once you have purchased the luxury itself.

I can't speak for the west coast, but on the east coast there are abundance of smaller cities and suburban towns between major cities. So to take advantage of utility real estate investment being based in Boston myself, I don't need to look much further than Worcester MA, Providence RI, Nashua NH etc. to get a sub 9.6x utility classification. It is not difficult to find houses worth $3000/mo in rent, asking between $250,000-300,000.

mike says

On the lower end of the market (400-500K) – I almost feel it is not worth to sell your house, but to rent it if you want to move. If I sell a 450K house, I will immediately lose $25K in commissions. This makes me absolutely sick. I would rather take that $25K and put it towards a second property.

In Northern NJ, near NYC is gaining great prices, out further west, the prices are still down from 2005-2007 period, I think there will be good opportunities there as well for rentals, vacation properties, etc.

Andy B says

Spot on from the Midwest perspective. I am a real estate investor in Indianapolis. My average rental home costs about 105k. My average monthly rent that I get is $1050 per month. Ratio of about 8X. On my last deal, my 13 year old son was by my side every step of the way, from looking at the property to closing a 2 year lease with tenants within a week after closing on the purchase of the house. He's a sharp kid and saw all the finciancials as I'm teaching him. His comment was "dad, why doesn't everyone own rental properties?" That is a good question from a young unbiased mind!

Renters in SF says

Thanks – nice post. I wonder if you could also address the issue of rent control?

Specifically, my partner and I pay ~$1900 / month for a rent-controlled apartment in San Francisco. Would it ever make sense to buy here?

Eric J says

Not sure the math is right on your rent vs buy analysis… I think the opportunity cost you use is skewing the results.

I ran the numbers and I get a total actual cost of ownership of about $148K per year. But in the process you gain about $38K in equity due to loan paydown in year 1. So the net impact on your net worth would be -$110K to buy, assuming no appreciation. As you showed, the impact on your net worth to rent is -$108K per year. But that doesn't capture the full picture because as a home owner you can deduct the property taxes and mortgage interest, which you can't do as a renter. So it might be more expensive in to own in terms of budgeting, but it's better for your net worth – especially if housing continues to appreciate. I guess if you're short SF real estate, renting might be smarter for now. In this example, you put down about $740K as a down payment, so for every 1% increase in property values, you get a cash on cash return of 3.5-4%, which easily beats the 2.5% opportunity cost you used. So in my opinion, it really comes down to your perspective on SF real estate… if you're long, buy real estate, if you're short, be a renter for now and buy after prices correct.

Counting Quarters says

Great interesting read. Where we are we could turn around and rent our $200k home out for $300 more a month than the mortgage tomorrow. But the home has also appreciated in value by about $45,000 since we purchased it two years ago. After we finish remodeling the master bath and the kitchen we are not sure if we should take the profits and run or rent it out for an even higher rate. What do you think?

Mike says

Midwest (detroit suburb) real estate investor. I have a hard time investing in anything else but real estate due to the math! I'm still fairly young so it's typical to have higher risk in my asset allocation, but I can't find any reason not to invest 100% in rentals (other than my company match 401k). The capital appreciation has been incredible in this market over the last 5 years, I would say average 50% appreciation; I have a few rentals that have doubled in value with some sweat equity. My Price/Rent ratios are well below the 9x; I've got one at 4x, been there 3 years and never missed a payment. I've been feeling like prices are too high to make any purchases the last year or so, but I guess in comparison it's still a great time to buy in the midwest!

Jon Formby says

Hey Sam, this is bar far one of your best articles to date! Really nice work here. Quick question, can you provide a link for that interactive zillow chart showing price to rent ratio? I found the raw data from Zillow and am playing with that but I'd also love to toy with that interactive chart from your article. Thanks man, keep up the good work!

Duncan's Dividends says

I am a landlord in Chicago and honestly would like to get out of it. I break even, job moved me to Phoenix, and don't like the worry of if my tenants will be around later and if they will damage the place. I love real estate, but I'm more comfortable with REITs instead since they are actively managed property and I don't have to worry about anything breaking. Love the article though, thanks for an always superb read.

Nick says

Hi Sam, totally love this post. I wonder how much this ratio has to do with the possibility that the better to rent markets have home prices will appreciate more over say Raymondville Tx. If your 6.2M in TX appreciates 0% in the next 5 years, but 6.2M Hawaii appreciates 30%… 1M in cash flow for 5 years and 0 appreciation = 5M net vs 1.8M appreciation (w/ 30% increase – probably high)… Ahead by 3M+ in Tx… Wow. Just answered my own question.

Maybe it is people's perceptions, job markets, etc that creates this disparity, but the numbers don't lie. Mind blown. Even if you think you may have higher vacancies on the 62 rentals and need to hire a staff to handle the payments, repairs, collections, etc., even if you're off by 50% vacancies and costs you would still be ahead with the utility purchase.

Adriana @MoneyJourney says

A few years back, my family did the opposite: we moved into a bigger home and rented the small one (instead of selling).
Now that I think about it, the choice was OK for the time being. But nowadays, your approach seems like a much better idea!

SMM says

Interesting stuff! Right now I just have a couple of REITs in my IRA accounts. I don't feel comfortable acquiring a rental property and then managing it, or tacking on another mortgage. Having said that though, maybe when I downsize at retirement, I can rent out my primary residence. At least it'll give me something to do too 🙂

Dick says

Great Post FS! I've been thinking about this for a very long time, whether to rent out
my primary residence since my wife and I are now empty nesters, but, unfortunately, for
the time being the sentimental value far exceeds the economic gains. Perhaps, when
we retire our perspectives will change.

How were you able to "let go" when you first rented out your big home? I certainly know
how you felt when those 5 guys destroyed your property.

CuriousOne says

Pretty insightful post. But it is *full* of assumptions, folks out there are pretty smart. If it were as simple as investing in "Utility" vs. "Luxury". It is NOT.

1. Investing in RE is akin to investing in stocks, or else choice would be too easy. Investing in RE in SJ is akin to investing in Growth Stocks (think AMZN) vs. investing in RE in TX could be same as investing in Dividend stocks (think AT&T). Do I want to invest in AMZN today which could double in 10 years and has a far less EPS, vs. T which would vacillate between $33-$40 for next 10 years but still yield me 5%? Do I invest in an SFO condo, which is worth $1M today but could become $2M in 10 years, vs. some unknown home in Pochita (made up name), TX worth $100K today, and will change to maybe $101K in 10 years.

2. As a landloard, its NOT just about ROI. Its about – yes the 3 L's – Location, Location, Location. Why? Because its about rentability! How easy is to rent a condo in SFO than it is to rent a house in Pochita, TX? If your house is empty most of the year in Pochita, you make Pochita as a landlord!

3. There is a reason why ROI is low in SFO, than Pochita. The world map is the proof. Whats the rent for a condo in Beijing or Mumbai, for the cost of the house? Landlords pay such crazy prices because the their ROI is based on the price they pay+appreciation (refer to #1 above). They are betting on appreciation in hot markets. Is SFO undervalued compared to Shanghai or Mumbai? Is Boston? Of course, folks are attracted to opportunities, and they find it in these cities. They pay the price. The demand will go on and on, the land remains the same.

4. Supply and Demand. If a house sold for $350K in San Jose in late 90's is worth over $2M today (real case with my cousin), and rents for say $7000 today. It only tells that with time, house value appreciation as a landlord when no longer attractive will force that landlord to increase the rental price. Not everyone can rent for cheap in a market where house prices are not appreciating. Landlords allow for a cheaper rental ONLY because their house value is increasing over time.

5. In the end, Owning a house is a better value proposition than renting. Be it luxury markets or utility markets. Utility markets attract a different segment of tenants, and trust me – you dont want to handle them.

CuriousOne says

I live in Denver. Not in high growth areas like SFO or NY.

I have a "balanced" view on finance, at least the way I like to think based on where I am 🙂

I can see both sides – upper, and whats considered as lower in midwest.

I just bought a property in April, and plan to buy another in July. I invest in location. Denver downtown condos are selling within $400Ks. Not in millions yet like SFO or Boston. But owning one, I am a strong believer in what can be rented easily, than in 100x rule when it comes to RE investing.

fresh engineer says

Hey Sam, I'm a new reader currently working in Hong Kong and I'd like to know your thought on the world's most expensive housing market (given the median multiple of household income at 18.1). According to your post and my preference, is it rational to rent in HK and buy in other nearby countries?

John says

Sam, I love the premise of the article but I am not convinced investing through crowd funded platforms like RealtyShares or Patch of Land is the solution. If you invest in Debt offerings on these platforms you are rarely offered more than 10% for 70% LTV with a developer having a decent track record. The Equity offerings have a lot of assumptions for 15-20% IRR which I am not sure can be believed.
The better option is to actually buy houses like you mentioned in flyover country and develop a team for property management and repairs.

Also what are your thoughts on doing a cashout refi for bay area properties to continue maintaining the leverage ?

James says

Really really interesting reading, I'm from the UK and it's often said how expensive London is, but my $1m flat with rental value of $32-$35k is still significantly cheaper to own than rent.

Why? Because property tax is zero for the owner ($1k for the renter) and an owner with 25% down pays interest of less than 1.5%. In fact I think values would have to be above 40x the rental value to even contemplate selling and then I think primary residence tax considerations would still point to ownership.

I think something has to give (be it prices downwards or very possibly rents upwards) in SF if mortgage rates are 3.5% and property tax is an additional 1.2% on top……

SAS says

So if I go back to the house I sold in Ft. Lauderdale when my job forced me to move. I had a great pool with solar power water heater, and 10 miles from the beach. I could have rented it for $3,500 / month = $42,000 per year. I ended up selling it (under corporate relocation package ) for $450,000. So that means it is 10.7X. So that is below the threshold, so hard to say either way whether it is better to sell or rent out. I guess having employer pay all the closing costs and taxes pushes selling a bit better. So I made the right decision then, but I miss that house (and unfortunately, while FL is the east coast, there are no jobs there).

Phillip Sykora says

110% down for potential pool party.

Just throwing it out there.

Terry Pratt says

How is there so much excess demand when so many people have negligible capital?

Your First Million says

I really like this BURL concept and it makes sense 100%. Here in Sacramento with today's housing market and rental market, there are no properties out there that can be bought for 100X the monthly rental… and if there are any, they are going to be very run down in very high crime, drug ridden areas. Even in those areas 100X probably can't be achieved.

Renting is a great option in today's market. We all know that real estate goes in cycles… and although over the long term real estate always appreciates… it does go through shorter term ups and downs. In most California markets we are definitely in a sellers market and prices are extremely high in comparison to median incomes. Renting while the market is high and waiting to buy until a cool down is a prudent move in my opinion. I have even been considering selling my home now while the market is hot, renting a place down the street, and then buying again during the next buyers market. Who said your house can't be an asset? 🙂

I really like the midwest for cash flow investing. You have to do a lot of research in the different markets first however. Many areas the population is actually rapidly decreasing… and has been over the past 20 years. I would warn to stay away from those markets. I do like places like Indianapolis and Kansas City… both which have seen a solid net gain of population over the last 10+ years and have good working class job markets.

Todd Guthrie says

RL-BU!
This is great. It is so obvious and stupid simple, yet I've never heard it condensed so succinctly.

Desirable high-end real estate carries an ownership premium, just like that on the low-end carries a discount.
Therefore if you must live in an expensive metropolitan area (because of work or family), then you should rent and let someone else bear that ownership premium, while investing your savings in a market with a higher rate of return.

Financial Samurai has created a life-changing investment and lifestyle theory in only four letter. I hereby nominate him for a Nobel Prize in economics.

FIRECracker says

Wow! Super thorough post, Sam. How do you find the time to be a Dad and still write to a consistent schedule? *hats off to you*.

Your rule of "pay no more than 100X the monthly rent as the purchase price. " or "the 1% rule" according to Paula Pant, is the rule I like to use as well when evaluating whether it makes sense to buy or own. As you said, it's nearly impossible to find something that follows the rule in massive metropolitan cities like NY, SF, or Toronto. That's why it makes more sense to rent in the bigger cities and own in other places where you can follow the 1% rule.

The key take away of your article is this point: "If you can remove emotion, pride, and prejudice from the equation"

The math is not challenging but removing the emotions from the decision is the most challenging part. It's too easy to get caught up with FOMO and needing to own for the pride of ownership and fear of missing out, rather than owning based on what the math tells you.

Marcus says

The biggest mystery of all is how you have mastered the art of typing/blog writing in bodies of water….(bathtubs and pools seeming to be your particular specialty. lol)

jesse says

Hello! Love it. Reminds me of the adage: "buy where you want to rent, rent where you want to live".
So, how does this logic apply if you already own in the expensive luxury market? Does this rule of thumb indicate to sell and put it in reits / crowdfund invesment, and rent something small and flexible? 🙂 My 2m property would return 4% as a rental…
Attentively, -J

BeSmartRich says

So what time is the pool party? 🙂

Solid post. Yup. Many landlords in Toronto are not cash flow break-even but looking for capital gain. Rising interest rates started marching in and they would be in trouble soon…

Andrew says

Target Rent to Home Price for Outskirt NYC Regions? And do you factor in taxes and other expenses?

My wife and I bought a 2 unit home in Union City NJ 2yrs ago. It's 20 minute bus ride into manhattan w/ 24/7 independent bus companies available. The area is "up and coming" with a lot of luxury apartments being built but shops and area still have a ways to go. It is also a cheap alternative to surrounding neighborhoods and would expect prices to drop if other areas get cheaper etc. Think Downtown Jersey City 10 yrs ago…

8.25 Purchase cost/Annual Gross Rent Ratio. Both apartments are 1k sqft and newly remodeled (3yr and 5yr's ago) and combined rental income of 4,250/month or 51,000/annual gross, 20k/annual after-tax Net. There is a substantial disconnect between the purchase price on multiple unit homes and apartments. For example, a 2br apartment will cost 350-400k but a multi unit home w/ 2 2br apartments w/ basement, yard and no maintenance costs around $475-550k.

How would you go about calculating what an appropriate ratio target is for this situation?

Tommy says

Sam, just to be clear. In your personal example, you're renting luxury and you also bought luxury. You're choosing to live in the lesser of the two luxury properties that you own because it provides greater financial utility to do so.

Kevin says

Interesting article. Thanks again Sam for giving me something to think about.

I've been considering renting out my current home (live in Oregon), and buying a new one. But by your BURL advice I should rent. My current home (less than 10% of my gross) would rent out for enough to cover the mortgage, and probably break even if I hired someone to manage it. But with rent rates always going up, as well as NW appreciation, I think it's a reasonable LT hold. But not one that will get me rich.

Regardless, strongly considering renting out current, and renting a home for family while investing in Midwest via crowdfunding. But being held back by the feeling that long term renting is a poor strategy as I'll loose out on the likely equity I'd gain in a second property…..maybe short term rent while save up for a DP.

Eric says

Hi, Sam: Wonderful post. I have done 1031 before for like-kind in bay area, however, recently we had enough fun with tenants and was thinking about 1031 exchange into REIT or some really passive real-estate investment. Do you know any good resources for that? The main point is we want to avoid the tax on capital gain. Thanks!

Austin says

Sam-
I'm a bit confused after running my own numbers for my locality when it comes to buying vs. renting. Current Median Price to Rent Ratio for my city is 14.1. I am paying rent at 900/month (for 1bd 1ba). If I used the 100X-150X rule, I shouldn't buy more house than 135K max. Yet there are houses (3bd 1ba) for sale in which with a 20% down payment, I could have a mortgage be equal or less than my monthly rent (200K max house at 3.62% 30yr mortgage). It seems to me that if I could be building equity in a house, for the same monthly cost as renting, it's a no-brainer to buy a house right? Especially if I can get into a larger house that would be easier to rent down the road.

Whiteknight says

100x is far too strong of a gross return as that translates into a 12% annual rental yield, when getting half of that is a great deal when we see the 10-year yield at just 2.3%..I live in Nor Cal myself, in the Bay ~300x is average=~4%, Davis ~200x=~6%, ~150x in Sac area ~8% which i think gives the best rental yield and capital appreciation ratio..rents have increased there the most year over year the last three years!

Paco says

I think you are comparing apples and oranges. If you invest in a 30-year governent bond you get your return of 2.86% and that's it.
But your "annual rental yield" is not totally yours, you have to deduct the operating cost and use the cap rate. My understanding is that your 12% "rental yield" would imply a cap rate in the 6-7% range under US-conditions with its high property taxes. That would be a satisfying compensation for the risk indeed. If the location is a good one where probability of rents increasing ist very high, in my book you might consider accepting a cap rate in the 3-4% range. If you are paying more you are betting on a decent amount of (rent) inflation for the future and interest rates at least not going up significantly.

B says

Nah pack, in fact the opposite where not only getting the rental yield which is largely tax-free due to depreciation, expenses, etc. But capital appreciation as well..example I've gotten is a 4 bd Sacramento home for $255k at the end of 2012 rented that year for $1845..not just appraised at $406k and renting for $2700..CA property taxes are only ~1.2% (varies due to what we have on different developments, mella roos paid off or not, special assessment like Sam brought up in SF regarding BART funding), BUT most importantly in CA protected via prop. 13 where it can only increase the max of 2% since it's enactment in 1978.. therefore, even though my home is now valued at $406k, it it only assessed for $271k thus saving already ~$1500 EACH year and will compound even more..another example is my father still has the first home he bought in 1979 for $40k, now 4 months ago appraised at $555k, but his basis is just $121k thus saving $430k in assessment or ~$6k each year.. moreover the rent more importantly on that home has increased from $200 to $3200/mo meaning he gets more in rent now each year for this home he originally bought!! And he only put $2k (5% down) so what's the CAGR on that lol?

Best of luck all on this great goal of breaking the shackles of enslavement/corporate America . thankfully at 31 I've broken free with a self-made net worth of ~$2.5m, but more importantly FCF of $10,800k/mo and growing

Turner says

Sam – Long-time reader, first-time commenter.

Do you have any advice or experience hiring a property manager for a remote Midwest property? I live in Michigan, and looking in some of the Midwest University cities (Akron) as attractive places to buy. Any tips?

Judith Wilson says

You gave a one line passing remark to the idea of capital appreciation here – but that is crucial, and the main reason for buying over renting. I'd argue that most of the return comes that way. The reason that so many people have done so well out of cities like SF and NYC is capital appreciation.

I think a better analysis would include the capital appreciation in the midwest and places like SF and then see where it's better to invest your money.

Also the capital appreciation is significant because it amplifies the return if you take out a loan to buy a property. If the property value doubles in say, 10 years, in SF and does much less in the Midwest which area would you rather be invested in?

B says

I don't agree as much investing in the economically depressed and unstable employment base of the Midwest as likely to have months of vacancy which kills returns and then add on minimal and in many cases like Kansas declining values and it's a losing proposition..add in that Sam is not taking into account the very relaxed permitting there and so virtually assures minimal price appreciation, whereas in California CEQA and other local environmental regs., Especially in SF, ensure continued very limited supply and thus higher prices..for the best income to capital appreciation, I've seen Sacramento getting comfortably 7-8% cash on cash returns while having the highest YoY rent increases the last 3 years, these are for 2000 and newer built homes and thus minimal maintenance for years/decades..just had 4 new renters from South SF, Concord (east bay), San Jose, and santa barbara..will continue due to purchasing power, far more spacious and newer homes, ability to telecommute and Amazon bringing 1500 jobs along with other tech money coming here since buying the Sac Kings (Vivek from Atherton, Mark m. From Orinda, Jacobs from la Jolla, former cpo of fbook, etc)

B says

Can you email me and I can give more info, my old blog..I like to keep a stealth profile Along with wealth as unfortunately a lot of jealous people out there.

B says

Paco, who said RE in the US/CA goes up forever as that's obviously not the case as seen from 2007-2012 in virtually all markets? I have no reason to sell RE and in fact want more to think it's a bad investment so less supply of buyers. Just sharing my input and success as I've thankfully made enough.

Instead of being a smart allic, let's say you have $10k to invest now with minimal debt and starting to build your financial nut, how would you allocate? I'd say in any market where it's still the case largely, for sure put that as a 3.5% or .5% FHA down loan and buy your first home where you're not only paying less in rent, you may experience appreciation years down the road..beats I think buying gold, Bitcoin, <100 shares of aapl or spy, or bonds huh?

OMGF says

I'm wondering what this would like like for a city like Chicago. Does it make sense to be a landlord for a "luxury" property and rent utility?

ZJ Thorne says

I live on the East Coast and am going to be in the market for a utility home in the next 12 months. Luxury is for hotels when I'm visiting with my love. Daily life does not need that. Just a place to be secure.

Sunny says

Any thoughts on syndications? Multifamily, mobile home parks, or otherwise?

Jess says

Hi FS! Penny for your thoughts about hanging on to a newly remodeled 3/2 family home investment property in a nice area of Marin today (Oct2017). I don't own any other properties, and aim to move downtown SF. No debt.
Gratefully,

Kara says

The 3.5% is not realistic rate for buying an investment property. I recently bought my condo I am living in and got preapproved for 3.275%. The loan representative told me the rate differs at 4.25% for an investment property.

So the Midwestern example doesn't accurately depict the correct assumptions.

I thoroughly enjoyed reading and found the information useful.

Roger says

"The cost of living in your home isn't the actual money you are spending to live there. The actual cost is the opportunity cost of not renting it out at market rate."

Or the returns you sacrifice (income plus capital gains) from alternative investments by sinking your capital into bricks and mortar. Whichever is greater.